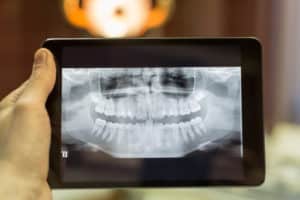 We've discussed the warning signs of gum disease, as well as treatment options, in our previous blogs. But how will the periodontist actually diagnose the issue? What technology will she use and what does she look for?
Your Medical History
Dr. Kania will first want to create a detailed picture of your overall oral health. To do this, she will gather records from your oral and medical health history. This allows her to better understand the cause of your disease, which influences your treatment options. If necessary, the doctor will also collaborate with other specialists to ensure you receive the quality treatment necessary to manage your periodontal issues.
Digital X-Rays
To obtain clear image of what's happening beneath the gums, Dr. Kania may perform digital x-rays. Unlike traditional ones, these use up to 80% less radiation and the images don't require development, allowing them to be visible almost immediately. These images allow the doctor to make a precise and accurate diagnosis.
Impressions and Exam
To better plan your treatment, the doctor may also take detailed impressions of your dental ridges, which allow her to also better diagnose the extent of your periodontal problems.  There is no substitute for a complete clinical examination by an experienced periodontist.  This exam includes measuring of attachment levels, mobility, recession, bite problems, tissue biotype and other indicators of health and disease.
When Should I See the Periodontist?
When should you see the periodontist? We suggest seeing one as soon as you notice any changes in your gums, such as redness, soreness, or bleeding when you brush or floss. These could be warning signs of inflammation. Addressing inflammation early can help prevent the onset of gum disease and protect your smile from further discomfort, as well as the risk of loose teeth or adult tooth loss. To schedule a consultation or talk about your oral health, please contact our office today.
ABOUT YOUR ENCINITAS/SAN DIEGO, CA, LASER PERIODONTIST:
As a board-certified periodontist, Dr. Ann M. Kania is specially qualified to diagnose and treat issues concerning periodontal tissue and the supportive structures of a patient's smile, as well as place dental implants to restore teeth lost to dental disease or trauma. Dr. Kania also offers the Pinhole® Surgical Technique (PST) for minimally-invasive, scalpel-free gum grafting. To seek Dr. Kania's expertise, contact her office today at (760) 642-0711.