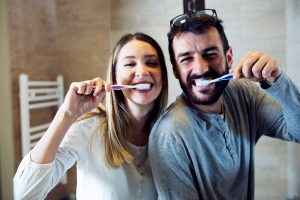 Every day, you have the opportunity to protect yourself against the onset of gingivitis. You should take care to protect your gums as well as your teeth when you brush your teeth and floss. Unfortunately, even when people have routines that they stand by, they can experience difficulties with an infection. If that infection is not addressed in time, it can worsen, and you can require the help of a periodontist to manage periodontal disease. Our Encinitas/San Diego, CA periodontal practice offers services that effectively fight the effects of this condition. We also provide guidance to help you avoid problems with periodontal disease. If you are looking for extra protection, you can take home Perio Protect, which contains a custom tray and antimicrobial agents that effectively deal with bacteria.
How Oral Bacteria Threaten Your Periodontal Health
Oral bacteria gather in our mouths, where they can feed on particles left behind when we eat and drink. While many of these bacteria are not harmful, there are many that can create trouble by causing issues like cavities and gum disease. The bacteria that build up at your gum line can affect your periodontal health when they move under your tissues and cause issues. They can then multiply and spread further, which can make the problem more severe! Good oral hygiene helps you avoid problems over time. When you brush and floss, clean thoroughly at the base of your teeth to fight those bacteria at your gum line. You can have a harder time preventing infection if you smoke cigarettes or use other tobacco products.
Signs Of Gingivitis That You Should Watch For
You should watch out for problems with gingivitis when you take time to care for your teeth. One sign that you have to watch out for is bleeding, as your gums may bleed easily whenever you brush and floss. You can also identify problems by looking out for swelling and discoloration. Another issue is gum line recession. If this problem becomes serious, we can recommend a Pinhole gum grafting procedure to address it.
What Perio Protect Adds To Your Hygiene Routine
We can recommend Perio Protect for patients who want to do more to prevent gum disease from affecting their life. Perio Protect provides you with antibacterial agents and a tray to easily apply them and fight the microbes that threaten your periodontal health. In addition to providing Perio Protect, we can help you avoid long-term issues with periodontal disease by performing a scaling and root planing to stop gingivitis from worsening.
Our Encinitas/San Diego, CA Periodontal Practice Can Help You Maintain Healthy Gums!
Dr. Kania's office is here to help people who worry about the effect that periodontal disease can have on their life. If you have questions about Perio Protect, or if you have any other concerns about your periodontal health, you can reach Dr. Kania's periodontal practice in Encinitas/San Diego, CA, at (760) 642-0711.