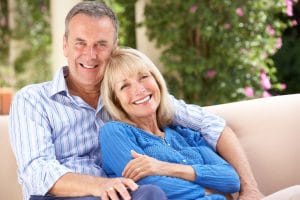 Anyone who has lost teeth due to periodontal disease can tell you how destructive gum troubles can be. The number of people who have had this experience may surprise you, as gum disease is the leading cause for adult tooth loss! At our Encinitas/San Diego, CA periodontal practice, we help people who want to protect their smiles from the damages done by poor periodontal health. We are also ready to help those who have already suffered tooth loss. We can talk to you about restoring your incomplete smile with the help of dental implants. Implants are put in place to act as artificial roots for your replacement teeth. With implants present, you can enjoy functional benefits to your prosthetic work that can surprise and delight you!
Making Plans To Restore Your Incomplete Smile
A thorough diagnostic will be performed before your implant (or implants) can be put in place. This review has several important purposes. One reason for it is that it allows your periodontist to determine where your implant should be set. Another is that it creates an opportunity to closely study your oral health, and determine if there might be any complications that need to be managed. Once preliminary work is done, and your implant placement is properly planned, these artificial roots can be carefully secured. A period of healing – typically ranging from four to six months – will take place before an implant is restored.
Dealing With The Effects Of Periodontal Disease
If left untreated, periodontal disease can be quite destructive! You can lose teeth due to damages that affect those tissues that hold your teeth in place. You can also have significant harm done to your gum tissues due to the bacteria present. Your periodontal disease can also have an effect on your general health, and elevate your risk for more significant problems.
Steps You Can Take To Fight Future Periodontal Problems
At our practice, we use modern treatments to help patients fight periodontal disease. We can use lasers to carefully trim away infected tissues, and we offer platelet rich therapy to help you grow healthy gum tissues. We also offer important support to help you prevent future troubles. In addition to providing thorough periodontal cleanings in our office, we can supply you with Perio Protect, which can be used to fight bacteria in your gums from the comfort of your home!
Talk To Dr. Kania About Restoring Your Incomplete Smile
If you want to do something about the serious effects of periodontal disease, reach out to Dr. Kania! At our periodontal practice, we address a wide range of issues concerning periodontal health. Our Encinitas/San Diego practice is ready to help people who are impacted by tooth loss and advanced disease, as well as those who are trying to prevent serious effects from occurring. To seek Dr. Kania's expertise, please contact her office today at (760) 642-0711.