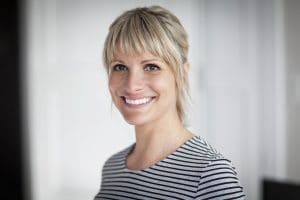 There are many problems that can affect you if you experience periodontal disease, some of which can have unwelcome effects on the way you look. One problem associated with an infection in your gums is the recession of your gum line. When this occurs, it can make your smile appear uneven, and it may cause certain teeth to appear unusually long. Our Encinitas/San Diego, CA periodontal practice provides a modern solution to the problem of receding gums. The pinhole gum grafts we perform require NO surgical cuts or sutures, and the treatment can actually lower your risk for future periodontal problems.
Gum Line Recession Can Create Problems For You
When your gum line recedes, the change to your smile can be decidedly unwelcome. You can find yourself embarrassed by the way your teeth look, as they may seem uneven, or appear longer than you would prefer. The portions of teeth that are exposed when your gums recede can be more vulnerable to decay, and they can be more sensitive. The unwelcome dental problems that result from this change can lead to more dental visits, and more cavity treatments!
We Offer A Modern Approach For Restoring A Person's Gum Line
With the Pinhole Surgical Technique, we can take a more conservative approach to restoring your gum line. This procedure sees your periodontist manipulate periodontal tissues through a small hole, eliminating the need for sutures and surgical cuts on your tissues. Your natural recovery is supported by a special collagen material carefully placed between the roots of your teeth and your periodontal tissues. Patients who have started looking at the benefits of a gum grafting treatment can find that this is an effective solution that demands less manipulation of your tissues, and an easier recovery.
The Importance Of Maintaining Your Periodontal Health
If you want to avoid future troubles with periodontal disease, make sure you take your smile health seriously at home by brushing and flossing effectively. People who fail to practice good habits on a consistent basis can allow tartar to form on their gum line, and create infections. If you start to show signs of gingivitis, or if you think your periodontal disease is progressing, our practice can provide important preventive care to help you maintain your healthy gums.
Talk To Dr. Kania About Restoring Your Gum Line With A Pinhole Gum Graft
The Pinhole Surgical Technique allows Dr. Kania to make your gum grafting procedure easier than you might think possible! This is just one of many examples of how our practice makes modern, patient-friendly treatments available to people who struggle with periodontal disease. To seek Dr. Kania's expertise, contact her office today at (760) 642-0711. We are here to help you if you have questions about the health of your gums, or if you are looking for a more effective means of restoring a smile affected by advanced periodontal disease.