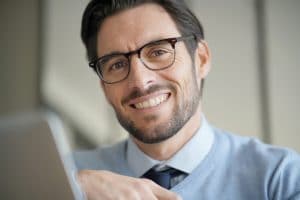 If your gums are affected by an infection, you can experience several warning signs. You might be compelled to seek treatment because your gums appear reddened or swollen, problems that can be reduced with the proper periodontal intervention. You can also experience a recession of your gum line, which can lead to frustrating new problems. You may be unhappy with how your infection changes your appearance. You can also find that this exposes sensitive areas of your teeth, leading to discomfort. Our Encinitas/San Diego, CA area periodontal practice provides pinhole gum grafts, which address the issue of gum line recession through minimally invasive work!
Gum Recession Can Be An Effect Of Poor Periodontal Health
If you have had issues with poor periodontal health, you may notice that your gum line has receded. This can have an unflattering effect on the way you look, and create issues with dental sensitivity. It should be noted that in addition to looking for a gum grafting treatment, you should discuss periodontal services. After all, unchecked periodontal disease can lead to tooth loss, and the condition has been linked to other potentially serious health matters.
Arranging Your Pinhole Gum Graft
A pinhole gum graft eliminates much of the more involved work a gum grafting treatment tends to require. Your procedure can be performed without requiring sutures, or cuts in your gums. Instead, your periodontist will make small (needle-sized) holes before moving your gums back to their proper positions. This process is less invasive, and also leads to faster results! This means you can see an improvement to your smile, while also enjoying a faster recovery from issues with periodontal problems.
Other Modern Periodontal Services Available To You
Our practice is committed to helping patients fight the potentially severe issues created by periodontal disease. We can provide advanced, laser-based treatment to help you fight an existing periodontal infection while protecting your healthy tissues. We can also supply you with Perio Protect, which makes it easier for you to take on the bacteria that infect your gums when you are at home.
Dr. Kania Can Provide A More Patient-Friendly Approach To Gum Grafting
Dr. Kania is proud to make modern periodontal treatments available to people in the greater Encinitas/San Diego, CA area. Gum disease can cause serious consequences for your oral health, it can lead to tooth loss, and it can interfere with your overall well-being by increasing the threat of other problems. Our practice is ready to help you take on an infection, and we can provide treatments like pinhole gum grafts to help you deal with the effects gum disease may have already caused you to experience. If you have questions about these services, or if you wish to seek Dr. Kania's expertise, contact her office today at (760) 642-0711.