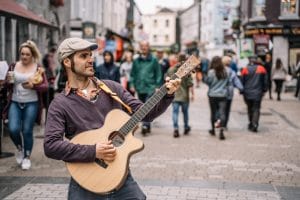 From Saturday, March 7 through Sunday, March 8, San Diego will host its Spring Busker Festival! This special two-day gathering will bring in some of the most talented buskers, or street performers, from different parts of the country to showcase an array of talents. This is a great chance to witness creativity and art up close, and it is FREE to attend, though tips for performers are encouraged. When you put time and effort into a skill, you can come away with an impressive talent. Good periodontal care may not lead to any fun "tricks," but putting time and effort into protecting these tissues can help you avoid potentially serious complications from gum disease. Your Encinitas/San Diego, CA periodontal practice can help you if you have concerns about your periodontal health.
When:
The Spring Busker Festival is taking place on Saturday, March 7 and Sunday, March 8. Activities will run from 12 pm until 6 pm on those days.
Where:
This event is being hosted at San Diego's Seaport Village, which is located at 849 West Harbor Drive
San Diego, CA.
Cost:
There is no cost required for you to attend this event, though the organizers are encouraging people to tip the performers.
Activities Include:
Over the course of two days, San Diego will host buskers from across the country to showcase their skills for the public! You can witness an array of talents while exploring the Seaport Village area.
For More Information:
For more information about this upcoming special event, please click here.
Dr. Kania Can Help You Protect Your Gums!
At our Encinitas/San Diego, CA periodontal practice, patients can receive help with their periodontal health issues. We can use diagnostic imaging technology to determine how serious your troubles with an infection might be before recommending a range of different services to help protect your smile and gum health. To find out more, please call Dr. Kania's periodontal practice today at (760) 642-0711.