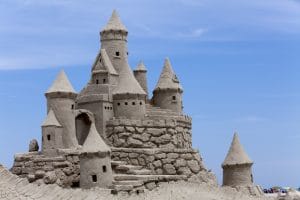 From August 31 through September 2, San Diego will once again play host to the US Sand Sculpting Challenge And Dimensional Art Expo! Over the course of this three day event, you can enjoy one of the country's most popular seaside festivals, which will invite talented sand sculptors and many other artists to show off their skills.This can be a great way to spend Labor Day weekend with your family, as you admire impressive art works, enjoy plenty of fun activities, and take in the beautiful San Diego coast. Our Encinitas/San Diego, CA periodontal practice is proud to be connected to a community that hosts so many great events. We want to take a moment to remind you that our practice is ready to help you if you start to become concerned about your periodontal health, or if you have been struggling against periodontal disease.
When:
The US Sand Sculpting Challenge And Dimensional Art Expo is happening on Labor Day weekend, with events running from August 31 through September 2.
Where:
Events will be held at San Diego's Broadway Pier And Landing, which is located at 1000 North Harbor Drive, San Diego, CA.
Cost:
Admission costs to the festivities will range from $10-15.
Activities Include:
For three days, you can check out the works of some truly remarkable sand sculptors, and check out many fun events connected to this special event.
For More Information:
For more information about this upcoming special event, please click here.
You Can Enjoy Superior Periodontal Care From Dr. Kania!
When problems with periodontal disease go unchecked, an individual can have a hard time managing their health, and they can face a serious risk for tooth loss! Dr. Kania is proud to offer a variety of advanced treatment options, which can help you keep your gums in good health while managing the impact of periodontal trouble. To set up an appointment with Dr. Kania, contact her office today at (760) 642-0711.