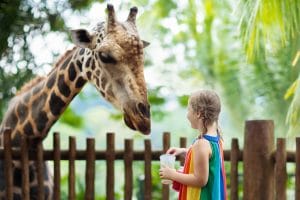 Now through January 5, the San Diego Zoo is hosting its special Jungle Bells program! There will be special events, like shows, and other fun programs throughout each day while the program is running. Make sure you stick around in the evening, as many fun activities are scheduled for the later hours. This can be a great way to treat the family to holiday fun, and it can be a great opportunity to see a new side of the San Diego Zoo! Planned outings can help you end the year on a magical note. If you want to end this year on a positive note, and avoid troubles in 2020, make sure you take action if you have problems with your gums. Our Encinitas/San Diego, CA periodontal practice is prepared to help you stop problems with gingivitis, and we can provide modern answers to problems with periodontal disease.
When:
The San Diego Zoo will continue to host its special Jungle Bells events through Sunday, January 5. Events will happen throughout each day, with many programs saved for the evening hours.
Where:
The San Diego Zoo is located at 2920 Zoo Drive, San Diego, CA.
Cost:
For information on purchasing tickets to the zoo, click here.
Activities Include:
The Jungle Bells program will offer guests a chance to enjoy a series of live performances, live music, and other special activities.
For More Information:
To learn more about this ongoing special event, please click here.
Arrange Expert Periodontal Care With Dr. Kania
The effort you put into taking care of your gums can have a significant impact on your general health, and influence your risk for future tooth loss. Our Encinitas/San Diego, CA periodontal office provides our patients with modern solutions when periodontal disease is a problem. We can also help you take care of your smile if you want to put a stop to gingivitis, and protect yourself from future troubles. To make your appointment with Dr. Kania, contact her office today at (760) 642-0711.