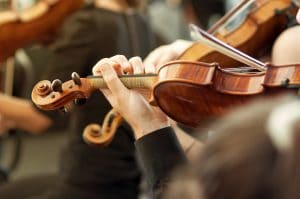 On Friday, June 28 and Saturday, June 29, the San Diego Symphony will host special outdoor concerts! These performances will give the community early opportunities to celebrate the Fourth Of July this year – the group will play a number of rousing, patriotic pieces, and the shows will be concluded with spectacular fireworks! If you are looking for an excuse to plan a family outing, if you love music, or you just enjoy the spectacle of a great fireworks show, these concerts can provide you with terrific entertainment! Our Encinitas/San Diego, CA periodontal practice hopes everyone has fun plans for the Fourth Of July. We also want to remind you that we are ready to provide quality services that can help you protect your gums from harm!
When:
The San Diego Symphony will host its special Bayside Summer Nights performances on Friday, June 28 and Saturday, June 29. The performances and fireworks shows are set to last from 7:30 pm until 10 pm.
Where:
These concerts are taking place at Embarcadero Marina Park South, located at 206 Marina Park Way, San Diego, CA.
Cost:
Tickets to these concerts range in price from $24 to $98.
Activities Include:
During the San Diego Symphony's Bayside Summer Nights concerts, audiences can listen to exciting, iconic hits that are quintessentially American. Classic pieces, fun favorites, and even some select soundtrack offerings will fill out these shows, which will be concluded with fantastic fireworks displays.
For More Information:
For more information about this event, click here.
Schedule Periodontal Care With Dr. Kania!
If you are starting to notice signs of poor periodontal health, or if you have been struggling with the effects of gum disease, reach out to Dr. Kania! At our Encinitas/San Diego, CA practice, we offer modern procedures that can help you prevent troubles with periodontal disease, and manage an ongoing issue. To seek Dr. Kania's expertise, contact her office today at (760) 642-0711.