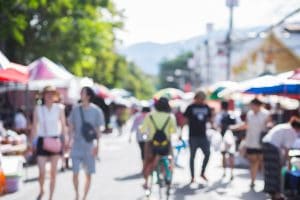 On Saturday, September 28, families in and around San Diego can enjoy a special event honoring the area's history! The Cabrillo Festival marks the arrival of the first European explorers to America's west coast, but the event itself is a celebration of the many cultures who were present in the area at this point in history. There will be re-enactments, live music and dancing, traditional entertainment, and much more for everyone to enjoy during this FREE event! At our Encinitas/San Diego, CA periodontal practice, we are proud to serve a community with so many exciting public activities. We are ready to provide residents with expert oral health support, as well as modern services to help them manage the effects of periodontal disease.
When:
The Cabrillo Festival will take place on Saturday, September 28. The event is scheduled to last from 11 am until 4 pm.
Where:
The festival is taking place at Point Loma Peninsula, which is located at 291 Rosecrans Street, San Diego, CA.
Cost:
This event is FREE for the public to attend, and nearby free parking will be available.
Activities Include:
During the Cabrillo Festival, families can enjoy celebrations featuring live performances that celebrate the traditions of Mexican, Native American, Spanish, and Portugese cultures. There will also be live music, food, refreshments, and a special historical re-enactment!
For More Information:
For more information about this upcoming special event, please click here.
Schedule Periodontal Care With Dr. Kania!
At our modern periodontal practice, Dr. Kania is ready to help people manage the condition of their gums! For people who are trying to avoid troubles with gum disease, our practice offers important preventive services. We also use modern, less invasive treatments for people who are struggling with the effects of gum disease. If you are ready to meet with Dr. Kania, contact her office today at (760) 642-0711.