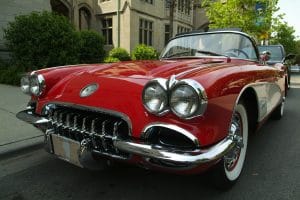 On Thursday, June 20, Encinitas residents can see an impressive sight in downtown Encinitas. Since this is the third Thursday of the month, June 20 will allow residents to enjoy another Encinitas Cruise Night! During this monthly event, which is set to run through September, the streets will be filled with an impressive array of classic automobiles. In addition to these impressive vehicles on display, visitors can check out live music, and visit one of the many fun downtown restaurants for great food. To keep a classic car in great shape, effective maintenance needs to take place. Your smile also depends on smart care over time. If you want to keep all of your teeth, it is important to take care of your gums, as periodontal disease is the leading cause of adult tooth loss! Your Encinitas/San Diego, CA periodontal practice can help you maintain great gum health.
When:
The next Encinitas Cruise night is scheduled for Thursday, June 20. This event takes place on the third Thursday of each month, and will run through September.
Where:
The event takes place in downtown Encinitas.
Cost:
You can check out this special monthly event for FREE!
Activities Include:
In addition to putting some incredible classic cars on display, this event will encourage Encinitas families to enjoy an evening in our lovely downtown area. You can also enjoy live musical performances.
For More Information:
For more information about this event, click here.
Schedule Smart Periodontal Care With Dr. Kania!
Dr. Kania is proud to help Encinitas and San Diego, CA residents keep their gums healthy, and their smiles safe! We use many modern procedures to help individuals who are struggling with the effects of periodontal disease, and we can offer you important preventive support as well. To seek Dr. Kania's expertise, contact her office today at (760) 642-0711.