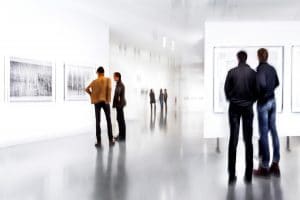 On the evening of Saturday, June 1, the Encinitas, CA community is encouraged to experience Art Night Encinitas! During this special evening event, art galleries throughout the community will open up and welcome visitors to explore the many works on display. This is a great chance to mingle with fellow art lovers, and an opportunity to glimpse the creativity on display in the area! When it comes to maintaining a vibrant, fun community, social activities are important. When it comes to maintaining your periodontal health, persistent oral health care can be key. If you are concerned about the condition of your gums, our Encinitas/San Diego, CA periodontal practice is here to help!
When:
The Art Night Encinitas event is taking place on the evening of Saturday, June 1. This event is scheduled to last from 6 pm until 9 pm.
Where:
Different civic and local galleries throughout the Encinitas community will be open during this spcial event.
Cost:
Galleries will be welcoming guests for FREE tours during this event.
Activities Include:
During Art Night Encinitas, you can explore the many local galleries in the community, and see the impressive array of artworks on display. This is a fun way to mingle with other art fans, as well as an exciting chance to support your community!
For More Information:
For more information about this event, click here.
Schedule Periodontal Health Care With Dr. Kania!
Dr. Kania is ready to help patients who are struggling with periodontal problems. We can offer a thorough review of your periodontal health, and provide modern solutions to issues with infections. We can even help you practice more effective care for your gums at home! If you are ready to make an appointment, or if you have questions for us, you can contact Dr. Kania today at (760) 642-0711.