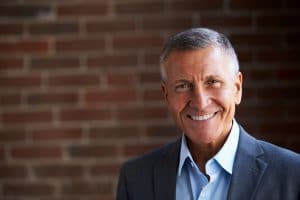 Periodontal disease is a harmful condition that can seriously impact your appearance, and your general health. When a person lets periodontal problems go unaddressed, the damage that occurs to the tissues supporting their teeth can result in tooth loss over time. Poorly managed gum health can also result in problems that make it harder for you to maintain your overall well-being. At our Encinitas/San Diego, CA periodontal practice, we offer an approach to care that focuses on helping you restore your health. One of our services that can help you is PRP therapy. This treatment encourages new growth of healthy gum tissues, which can help you avoid the health complications that can stem from periodontal disease.
Periodontal Disease Can Do Considerable Harm To Your Gums
You need to be concerned about your overall well-being if you have issues with periodontal disease. While your problems may start with oral bacteria, gum disease has been linked to heart troubles, and it can interfere with your ability to manage problems like diabetes! The problem can also cause some direct issues with your gums. Over time, a person with periodontal disease can suffer damage to tissues that keep their teeth secure. This can lead to the need for dental extractions, or the loss of teeth.
PRP Therapy Can Help You Regrow Healthy Gum Tissues
As part of our approach to treating your periodontal health, we can provide PRP therapy to help you grow new, healthy gum tissues! This treatment relies on platelet rich plasma (PRP), a substance that encourages healing and tissue growth. Thanks to PRP therapy, the stimulation and recovery of periodontal tissues can occur in response to periodontal disease. This can be recommended to help you grow healthy tissues after a procedure to clear away unhealthy tissues. Because we perform the removal of damaged tissues with lasers, this process can lead to less bleeding, and shorter recovery periods.
Creating An Effective Strategy For Fighting Periodontal Disease
What is the "right" way to fight periodontal disease? At our practice, we can help you by carefully evaluating your needs, and recommending the right strategy. Treatments in our office can help you fight accumulating bacteria beneath your gums, or restore new tissues. We can also provide guidance on better oral hygiene habits to help you fight gum disease, and we can use Perio Protect to give you an important tool for fighting problems at home!
Talk To Dr. Kania About PRP Therapy!
PRP therapy is one of many services Dr. Kania provides to patients in and around the Encinitas/San Diego, CA area! Our goal is to help you take on your issues with gum disease at whatever stage you are facing. To seek Dr. Kania's expertise, contact her office today at (760) 642-0711.