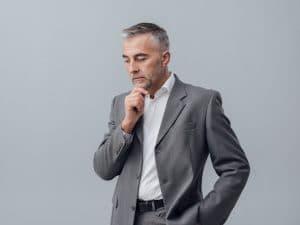 Any health problem can generate some cause for concern. When it comes to gingivitis, you can experience some alarm at the sight of gums that bleed easily, or appear swollen and discolored. Unfortunately, the problem can grow more severe over time if an infection is not addressed at this stage. People who do not take care of gingivitis can experience periodontal disease, which can lead to the destruction of bone and gum tissues that support their teeth. How much harm can an infection do at this point? Gum disease is the leading cause of tooth loss for adults! Your Encinitas/San Diego, CA periodontist can help you by determining how serious your periodontal infection is, and recommending the appropriate care to help you avoid this trouble. If you have already experienced tooth loss, we can talk with you about placing a dental implant to hold a permanent prosthetic.
A Periodontal Infection Can Lead To Attachment Loss
In its initial form, a periodontal infection can be reversed before permanent damage to your tissues occurs. Gingivitis affects many people, but it is frequently taken care of before the problem worsens. At our practice, we offer preventive periodontal services like scaling and root planing to fight an infection at this stage. Unfortunately, when the matter is not addressed, it may worsen until the condition becomes harder to manage. At this point, periodontal disease can cause inflammation and tissue destruction, which can lead to tooth loss and other health issues.
Your Periodontist Can Help You Understand The Severity Of Your Infection
Your periodontist can use diagnostic imaging technology to closely examine your gums, so we can find out how serious your infection is. With this information, we can give you better insights into how your problem can be addressed. If periodontal disease has already started to do serious harm to your tissues, we can recommend different strategies for care. Laser-based periodontal care can help you by removing infected tissues, and encouraging the new growth of healthy tissues. We can also use procedures like platelet rich therapy to encourage your body to naturally heal and grow healthy gums.
We Can Help You Regain Your Smile By Providing Dental Implants
If you have already experienced tooth loss because of periodontal disease, our practice is prepared to help you. We can plan and perform dental implant placement, which will give you a permanent post to hold a lifelike dental restoration. Dental implant support helps you feel at ease with your restoration, and it can provide important support when you bite and chew food.
Discuss Periodontal Disease And Tooth Loss With Dr. Kania
At our Encinitas/San Diego, CA periodontal practice, Dr. Kania can help you understand how serious your periodontal problems have become, and recommend the appropriate care. For more information on our services, call Dr. Kania's periodontal practice today at (760) 642-0711.