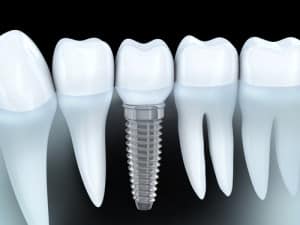 Have you recently lost one or more teeth? Whether the result of injury or advanced gum disease (periodontitis) you need to restore your lost teeth to enjoy a healthy smile. After addressing the cause of your tooth loss the doctor may recommend replacing them with a lifelike and long lasting prosthetic. Do you need dental implants?
How Tooth Loss Hurts Your Smile
Losing your teeth can lead to a number of negative impacts on your overall health, including:
Reduced nutritional intake
Difficulty being understood when speaking
Less confidence in appearance
Misalignment
Loss of jawbone density (creating an aged appearance)
Greater risk of further tooth loss
In order to maintain your oral health and current facial structure, you need to restore your lost teeth. Using dental implants can prevent the loss of jawbone density, avoid further tooth loss and facial collapse, and make your smile whole again.
Receiving Dental Implants
What does the placement process involve? First, the doctor needs to examine your smile to decide where the implant posts will be placed. After surgically inserting the titanium posts, the area will heal and in the process the post and bone tissue will bond. Afterward, a custom-made dental crown will be attached to the post using an abutment. Once complete, the tooth will look and functions like a natural one. Patients can then expect a lifetime of tooth replacement.
Does Anyone Qualify?
We typically recommend this option for people who meet two criteria:
Have a smile free of gum disease
Have an adequate amount of jawbone tissue
If you require treatment for gum issues, we can offer periodontal therapy and other possible solutions. For those without enough jawbone tissue to support the replacement tooth, you may benefit from a bone grafting procedure.
ABOUT YOUR SAN DIEGO, CA, LASER PERIODONTIST:
As a board-certified periodontist, Dr. Ann M. Kania is specially qualified to diagnose and treat issues concerning periodontal tissue and the supportive structures of a patient's smile, as well as place dental implants to restore teeth lost to dental disease or trauma. Dr. Kania also offers the Pinhole® Surgical Technique (PST) for minimally-invasive, scalpel-free gum grafting. To seek Dr. Kania's expertise, contact her office today at (760) 642-0711.