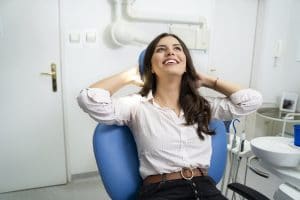 What makes periodontal care so important? How much trouble are you really in if you have unresolved issues with gum disease? People who neglect to take care of their gums can experience worrying problems over time. Periodontal disease can lead to the destruction of tissues that keep teeth supported, which can result in tooth loss. Problems can also make you vulnerable to other health issues, including heart disease! A periodontal specialist can help you make sure your gums are receiving quality care, particularly when you are struggling with an infection. At our Encinitas/San Diego, CA periodontal practice, we use advanced diagnostic images to carefully study your condition, and we provide several advanced treatment options to take on an infection!
Requesting A Second Opinion Appointment To Discuss Your Gum Health
A second opinion appointment with a periodontist can help you assess the extent of your troubles with gum disease. During your visit with us, we can study your tissues for signs of problems, and determine how far along an infection might have progressed. We can also give you important information about periodontal disease, its potential effects, and your treatment options.
Arranging Treatment To Address Periodontal Disease
Our practice uses modern techniques to fight harmful bacteria that cause periodontal disease. We can remove damaged tissues carefully with our periodontal laser. This precise cutting away of infected tissues can help you regrow healthy gums, while shortening a person's recovery time. We can also take on harmful agents directly with ozone therapy, a concentrated dose of oxygen in liquid or gas form to your gum tissues.
Your Periodontist Can Also Offer Guidance To Prevent Gum Disease
Depending on the state of your gums, it may be possible to prevent periodontal disease from becoming a long-term problem. A scaling and root planing procedure allows your periodontist to remove harmful agents that have built up on your teeth below your gum line. This can be important for managing periodontal disease, and it can help restore your health if you have gingivitis. Our practice can also provide important hygiene tips that can help you stay free of future troubles.
Set Up An Appointment With Dr. Kania To Discuss Gum Disease!
How much do you know about periodontal disease? Are you at risk for the kind of infection that can have long-term consequences? At our Encinitas/San Diego, CA periodontal practice, Dr. Kania is ready to help people who are trying to protect their oral health, and their general health, from periodontal disease! After your gums are carefully examined, an appropriate response to your infection can be arranged. You can also learn more about how you can manage this condition on your own. If you wish to seek Dr. Kania's expertise, contact her office today at (760) 642-0711.