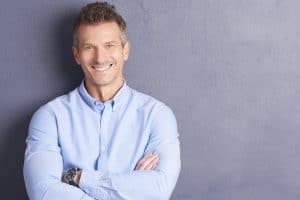 Is there time to spare when it comes to addressing problems with your gums, or should you make periodontal health care a priority? There are several issues that periodontal disease can create when it is not being properly managed. In addition to negatively impacting your physical well-being, the destruction of tissues resulting from this infection can leave you in jeopardy of tooth loss! At our Encinitas/San Diego, CA periodontal practice, we are prepared to help patients manage their condition so that they can avoid this problem. If you have already experienced the loss of at least one tooth, we can help you regain your full smile through prosthetic work with dental implants.
Tooth Loss Is A Real Threat For People Suffering From Periodontal Disease
When periodontal disease forms, the bacteria below your gum line put you at increased risk for tooth loss. Why does this occur? The infection leads to the destruction of tissues that hold teeth in position. This leads to attachment loss – your teeth can start to feel loose, and it may be necessary for a dentist to extract them. With preventive periodontal care, you can stop an infection before periodontal disease takes hold and creates this risk for you. Treatments to manage the condition can also help you avoid tooth loss.
We Can Prevent And Manage Periodontal Disease
Deep periodontal cleanings, also known as scaling and root planing procedures, remove bacteria that have built up beneath your gums before periodontal disease is a problem. If the condition has already formed, a series of appointments for Supportive Periodontal Maintenance – services that can take the place of regular teeth cleanings – can help you avoid complications. For those who need to deal with more severe infections, we can suggest laser periodontal treatments to destroy bacteria and stimulate new growth for healthy tissues. Procedures like ozone therapy also help to fight the accumulated microbes causing problems for you.
Replacing Teeth That Have Already Been Lost
If you are already missing teeth because of periodontal disease, we can help by providing dental implant placement. When you have a dental implant put in place, you can have a lifelike prosthetic tooth put in place to give you back your full smile. The implant provides a degree of stability that will also make it easier for you to bite, chew, and speak.
Talk To Your Encinitas/San Diego, CA Periodontist About Tooth Loss Concerns
At Dr. Kania's periodontal office, patients who are worried about their periodontal health can learn about the benefits our many services provide. We have experience helping patients avoid complications from periodontal disease, and we can perform work to stop this condition from progressing and creating more problems for you. To find out more, you can call our periodontal practice in Encinitas/San Diego, CA, at (760) 642-0711.