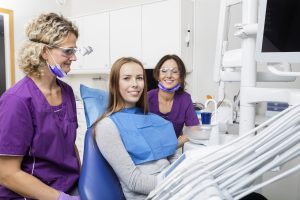 It is important that you take problems with gum disease seriously. In time, an infection can take a serious toll on your well-being. In addition to interfering with your ability to manage your general health, the problem can cause tissue damage that leads to tooth loss. At our Encinitas/San Diego, CA periodontal practice, we can provide different services that help patients manage periodontal problems, even when those problems have become serious. One option we provide is a holistic treatment that uses oxygen to eliminate harmful microbes without disturbing the bacteria that contribute to your mouth's healthy ecosystem.

Why You Might Want To Arrange Extra Support To Fight Gum Disease
If you overlook the impact that periodontal disease can have on your overall health, you can become vulnerable to potentially serious problems. The troubles you experience can affect more than just your smile, as the movement of bacteria through your bloodstream can cause issues for your overall health. With that said, you do need to worry about your smile, as the tissue damage that occurs due to your infection will make you more likely to lose teeth! The good news is that the right services will help you control your risks from poor periodontal health.
Arranging Ozone Therapy To Manage Periodontal Problems
Through ozone therapy, we can use oxygen to combat worsening problems with a periodontal infection. Concentrated in liquid or gas form, administering your ozone therapy lets us target the unwelcome bacteria that are present on the roots of your teeth while preventing problems with the healthy microbes present. This helps provide a more holistic solution, one that will not disrupt your mouth's healthy ecosystem. When provided in time, this kind of service can help you avoid the kind of serious complications that make prosthetic dental work and other services necessary. Of course, if you already need more involved care, we can take the necessary steps to provide it!
We Can Help You Fight Bacteria More Effectively At Home, Too
Through the use of Perio Protect, our patients can directly target harmful microbes that are present under their gums. This treatment relies on potent antimicrobial agents and trays that make the application of these materials easier. This can help you prevent problems from worsening, and it can help you avoid the more serious symptoms of poor periodontal health that can impact you over time.
Talk To Your Encinitas/San Diego, CA Periodontal Practice About Ozone Therapy
Through ozone therapy, we can use oxygen to provide a more comfortable and holistic solution for problems with advanced gum disease. Concentrations of oxygen give us the means to target unwelcome bacteria without disrupting the healthy microbes present in your mouth. To find out more about this and other services, call Dr. Kania's office in Encinitas/San Diego, CA, at (760) 642-0711.