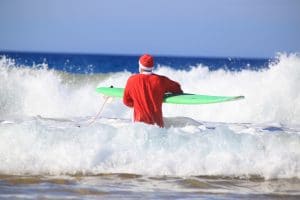 We have to wait until December 25 for Christmas, but families in and around San Diego can greet Santa Claus on Saturday, November 30 at the Surfin' Santa Arrival event! During this special occasion, Santa will be greeting people at the Seaport Village area, decked out in his seasonally appropriate surfing attire! Throughout the special event, there will be live street performances, vendors offering holiday items, and even a live parade! While you have to wait patiently for Christmas to arrive, you should know that waiting to see a periodontist about gum disease can lead to problems! Our Encinitas/San Diego, CA periodontal practice can provide an expert review of your gums, and recommend any treatments that might be called for to preserve your dental and general health!
When:
This special event is taking place on Saturday, November 30. While the event is officially running from 1 pm until 5 pm, families are encouraged to arrive early in order to find a spot where they can easily see Santa's arrival!
Where:
The Surfin' Santa Arrival is being hosted by Seaport Village, which is located at 849 West Harbor Drive, San Diego, CA.
Activities Include:
During this special event, San Diego families can welcome Santa Claus to the area, take photos, and enjoy access to vendors with holiday items. There will also be fun live performances, and a special parade event!
For More Information:
For more information about this upcoming event, please click here.
Contact Dr. Kania To Discuss Your Periodontal Health
The health of your gums can affect your risk for tooth loss, and even influence your potential for developing issues like heart disease! At our Encinitas/San Diego, CA periodontal practice, Dr. Kania can provide modern services to fight periodontal disease, or help patients prevent problems from forming. If you have questions, or if you wish to set up an appointment with Dr. Kania, contact her office today at (760) 642-0711.