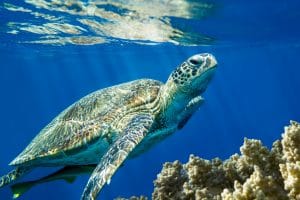 On Saturday, January 11 and Sunday, January 12, San Diego's Birch Aquarium is hosting a special fifth anniversary celebration for the arrival of its Loggerhead Sea Turtle! You can learn about how the turtle came to join the aquarium, and take part in a number of fun turtle-themed activities. Special events planned around the "Turtleversary" are included with your admission to the aquarium. With proper care, the Loggerhead Sea Turtle can enjoy a long life. If you keep up with smart periodontal care, your smile can also enjoy a long and healthy life. However, if you let problems with gum disease go unaddressed, you can be at greater risk for tooth loss over time. Our Encinitas/San Diego, CA periodontal practice is ready to help you take on problems with gum disease so that you can maintain your full smile.
When:
The Birch Aquarium's "Turtleversary" event is happening on Saturday, January 11 and Sunday, January 12.
Where:
The aquarium is located at 2300 Expedition Way, La Jolla, CA. The institution is part of UC San Diego.
Cost:
For information on tickets, please click here.
Activities Include:
During this special two-day event, there will be a number of informative and fun activities concerning the Loggerhead Sea Turtle, including information on the turtle located at the Birch Aquarium.
For More Information:
For more information about this upcoming special event, please click here.
Talk To Dr. Kania About Your Periodontal Health
If you want to keep your smile in good condition over the years, you need to take the health of your gums seriously. At our Encinitas/San Diego, CA periodontal practice, we have advanced tools and treatments that can help you maintain healthy gums over time. In addition to providing care for people who already struggle with periodontal disease, we can provide important preventive services for people who want to stop problems with gingivitis from worsening. To make your appointment with Dr. Kania,  contact her office today at (760) 642-0711.