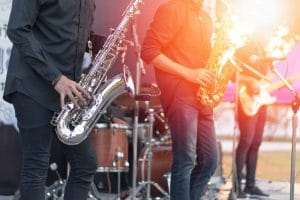 On Saturday, September 21 and Sunday, September 22, families in and around San Diego can enjoy live music, refreshments, and more during the Adams Avenue Street Fair! For two days, Adams Avenue will be transformed into a hotspot where music lovers can see ninety musical acts playing on six different stages. You can also check out special beer tastings, check out fun carnival rides, enjoy delicious fair food, and interact with art vendors! A weekend festival can be a great opportunity to step away from many daily responsibilities. With that said, you should always pay attention to the needs of your smile, especially when something seems wrong. If you notice symptoms of gum disease affecting you, talk to your Encinitas/San Diego, CA periodontal specialist, Dr. Kania, about your concerns!
When:
The Adams Avenue Street Fair is happening on Saturday, September 21 from 10 am until 10 pm, and on Sunday, September 22 from 10 am until 6 pm.
Where:
This event is happening on Adams Avenue at the corner of Adams Avenue and 34th.
Cost:
Admission to enjoy the fair is FREE! If you are interested in the craft beer test, there is an additional fee of $20.
Activities Include:
You can enjoy live music from ninety different acts, visit with arts vendors, check out carnival rides, and take part in other fun activities over the course of this two day event!
For More Information:
For more information about this upcoming special event, please click here.
Dr. Kania Can Help You Protect Your Gums!
At our Encinitas/San Diego, CA periodontal practice, Dr. Kania is ready to help patients take on issues with their periodontal health! Gum disease can be a serious problem, and one that is difficult to properly treat. Fortunately, we offer a range of modern services that can help you protect your gums, and your smile! To seek Dr. Kania's expertise, contact her office today at (760) 642-0711.