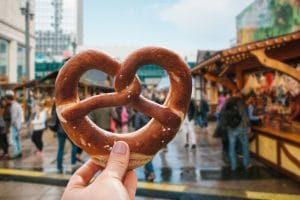 On Sunday, September 29, you can take part in the fun of Oktoberfest in Encinitas! This special event will feature an assortment of great German foods, drinks, and lively activities. You can explore the street fair set up for the event, or listen to live music. There will also be a fun family zone that your kids can enjoy! This is the twenty-fourth annual Oktoberfest event held by the Encinitas Chamber of Commerce, and it welcomes people to join in the fun for FREE! Our Encinitas/San Diego, CA periodontal practice is excited to see fun events taking place in our community. We want to remind you that we are ready to help you if you are concerned about the potential effect that periodontal disease is having on your oral health, as we offer a range of modern treatments for poor gum health.
When:
The Encinitas Oktoberfest event is taking place on Sunday, September 29. The event is scheduled to last from 10 am until 6 pm.
Where:
This event is being hosted at the intersection of Mountain Vista Drive and El Camino Real.
Cost:
Entrance into this event is FREE!
Activities Include:
During the Encinitas Oktoberfest event, you and your family can check out the various all-ages activities, explore a street fair, and hear live music! You can also enjoy various German foods and refreshments during this celebration.
For More Information:
For more information about this upcoming special event, please click here.
Talk To Dr. Kania About Your Periodontal Concerns
At our Encinitas/San Diego, CA periodontal practice, Dr. Kania proudly offers modern treatments that help you fight problems with poor periodontal health. If you are struggling with gingivitis or gum disease, you can benefit from services that protect your general well-being and smile from harm. If you are ready to benefit from Dr. Kania's expertise, contact her office today at (760) 642-0711.