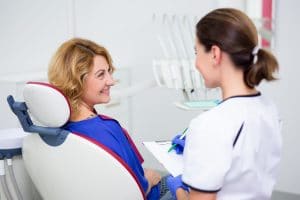 While your dentist can provide important updates about both your dental and periodontal health, you may want to seek out a second opinion to discuss the matter of gum disease. A periodontal specialist can provide further insights into what a serious infection can do to your smile, and to your overall well-being. At our Encinitas/San Diego, CA periodontal practice, we can offer important information during a second opinion visit. Of course, we are here to provide more than just an evaluation – we provide a range of modern services that can help you manage your periodontal health, too! While periodontal disease can be a serious oral health issue, the right services can help you effectively manage the threat, and preserve your smile.
Seeing A Periodontal Specialist After Meeting With Your Dentist
While gingivitis is a reversible condition, a case of periodontal disease can be more difficult to address. Unfortunately, this problem can also do significant harm to your gum and bone tissues, including those tissues that keep your teeth secured. Gum disease can also make it harder for you to manage your heart health, and other conditions, if it is not being dealt with. By making an appointment to talk about your condition with a specialist, you can learn more about what you are up against, and what you can do to address the problem.
We Offer A Modern Approach To Managing Your Periodontal Health
Our practice provides people suffering from periodontal disease with less invasive treatments that can have help them manage their issues. We rely on lasers for periodontal care that involves the removal of unhealthy tissues. Using lasers to remove unhealthy tissues can lead to less harm, avoid the use of sutures, and even encourage you to heal in less time! We also have innovative solutions to directly take on harmful microbes that infect your gums. For example, we can use ozone therapy to attack unwelcome oral bacteria, while leaving healthy bacteria alone.
Our Practice Can Also Help Patients Prevent Periodontal Disease!
If you respond to signs of periodontal trouble in time, you can stop gingivitis before periodontal disease becomes a concern! We can provide advanced diagnostic reviews to determine what state your gums are in. If you have gingivitis, we can perform a scaling and root planing to reverse your condition, and protect your smile. In addition to clearing away bacteria during this treatment, we also polish the surfaces of your teeth below your gum line, which will make it more difficult for new bacteria to build up in this area.
Talk To Dr. Kania About Your Concerns Regarding Gum Disease
Dr. Kania is prepared to help people in and around the Encinitas/San Diego, CA area who want to discuss their periodontal health. To seek Dr. Kania's expertise, contact her office today at (760) 642-0711.