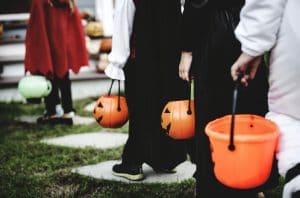 If you are looking for fun ways to celebrate Halloween in the San Diego area, check out the Mall-O-Ween Monster Mash event happening on Saturday, October 26! Hazard Center will host this special occasion for the third year in a row, inviting people to come out for a costume contest, special games, treats, prizes, and more. The proceeds generated from this year's event will help Angels Foster Family Network. Missing teeth can make a decorative skeleton feel extra spooky, but it can be a decidedly unwelcome problem for you! At our Encinitas/San Diego, CA periodontal practice, we can help individuals who are affected by periodontal disease, which increases the risk for tooth loss, as well as problems with overall health.
When:
The Mall-O-Ween Monster Mash is taking place on Saturday, October 26. This event is set to run from 2 pm until 4 pm.
Where:
This event is taking place at Hazard Center, which is located at 7610 Hazard Center Drive, San Diego, CA.
Cost:
This event is FREE for families to attend and enjoy!
Activities Include:
During the Mall-O-Ween Monster Mash, families can enjoy a fun all ages Halloween event that will include a costume contest, tasty treats, music, games, and more!
For More Information:
To find out more about this upcoming special event, click here.
Schedule Periodontal Care With Dr. Kania!
With proper periodontal care, you can have an easier time keeping your teeth in good health. Our Encinitas/San Diego, CA periodontal office has experience with individuals who are suffering from periodontal disease, as well as those who are trying to prevent gingivitis from worsening, and creating problems for their general and dental health. We can determine how serious your issues with gum disease might be, and recommend a modern, patient-friendly approach to helping you! If you would like to seek Dr. Kania's expertise, contact her office today at (760) 642-0711.