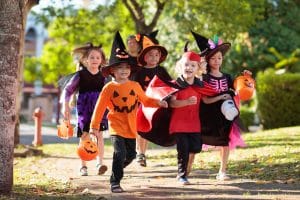 San Diego families can bring their kids to enjoy a great trick-or-treating experience on India Street on the evening of Friday, October 25! This is the thirteenth annual Halloween event of its kind hosted by businesses in Little Italy, and it promises youngsters a great opportunity to go out in costume. In addition to providing family fun in a safe and controlled environment, this allows parents to take a stroll through the different area shops. Halloween can offer fun scares, but it is difficult to find anything "fun" in the symptoms that periodontal disease can cause. If you are concerned about the state of your gums, our Encinitas/San Diego, CA periodontal practice can help!
When:
The Trick-Or-Treat On India Street event is taking place on Friday, October 25 from 5:30 pm until 7:30 pm.
Where:
This event is taking place in the Little Italy neighborhood, with candy being given out by businesses along India Street.
Cost:
Families can come out and enjoy this special event for FREE!
Activities Include:
On the evening of October 25, businesses in San Diego's Little Italy neighborhood are encouraging families to bring their kids out for a special trick-or-treating event! This is a fun and safe way to take the kids out for a classic trick-or-treating experience, and a great excuse to a few of Little Italy's many great shops!
For More Information:
For more information about this upcoming event, please click here.
Schedule Periodontal Care With Dr. Kania!
Periodontal problems can "haunt" a person persistently, and they can be difficult to manage. If you are trying to stop periodontal disease from seriously affecting your smile and well-being, or if you want to make sure your gingivitis is fully addressed before periodontal disease is an issue, our Encinitas/San Diego, CA periodontal practice can help! To seek Dr. Kania's expertise, contact her office today at (760) 642-0711.