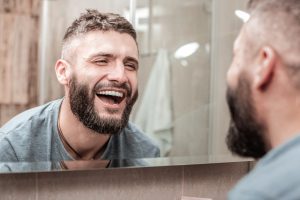 Your daily smile care routine is an important line of defense that will help you control your risks for problems with tooth decay as well as gum disease. You may not realize just how important preventive care is when it comes to maintaining your gums. Without proper prevention, you can experience issues with gingivitis that turn into more serious issues with advanced periodontal disease. Our Encinitas/San Diego, CA periodontal practice can offer Perio Protect as an additional resource for your daily care. When you add this to your routine, it gives you an additional means to manage the bacteria that can infect your gums.
Should You Do More To Fight Gum Disease?
If you are not taking gum disease seriously, there are serious risks for your smile as well as your overall health. Gingivitis is the first stage of an infection. When you treat it in time, you can keep it from growing worse, but when an infection is not properly managed, the consequences can become serious. In time, you will face higher risks for tooth loss as bacteria destroy ligaments and tissues. You can also have a more difficult time managing your health as bacteria move through your bloodstream and negatively affect your ability to manage other conditions.
Using Perio Protect At Home
With Perio Protect, you have an additional resource for your daily care, one that lets you target the bacteria under your gums. The treatment you receive will include custom trays as well as antimicrobial agents that fight harmful agents that threaten your smile. The trays make these applications easier, so you have little trouble beginning this as a form of care.
How In-Office Treatments Help Control Periodontal Problems
Timely care can prevent the kind of problems that make periodontal disease a serious concern. Unfortunately, not everyone puts a stop to trouble with their gums before they experience a more advanced problem. With our different in-office services, we can make sure you are protected against some of the more serious consequences of an infection. Our support includes options like laser periodontal care to remove bacteria and diseased gums, or holistic treatments that rely on oxygen or platelet-rich plasma to help you recover from problems.
Talk To Your Encinitas/San Diego, CA Periodontist About Perio Protect
Should you do more to protect yourself against periodontal disease? If you are not providing yourself the right daily support, you can struggle to fight problems with gum disease that seriously impact your well-being. With the addition of Perio Protect to your daily routine, you can take better care to control your health and preserve your smile! If you would like to find out more, call Dr. Kania's office in Encinitas/San Diego, CA, at (760) 642-0711.