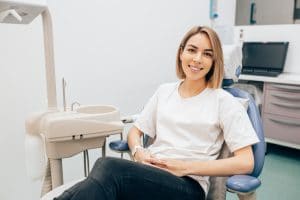 If you think something might be wrong with your periodontal health, make sure that you look into the matter. While gingivitis can be reversed, your condition can become difficult to manage if it is not maintained. Periodontal disease damages the tissues that are responsible for keeping teeth in position; over time, the breakdown of those tissues can lead to tooth loss. Bacteria responsible for your infection can create additional problems for your health when they travel through the bloodstream and attack other parts of your body. At our Encinitas/San Diego, CA periodontal practice, we are prepared to help people who think they might be suffering from gum disease. Through the use of imaging technology at our office, we can closely observe your gums to see what condition they are in, and recommend treatment based on your needs!
How Concerned Should You Be About Gum Disease?
If you respond to symptoms of gingivitis in time, you can restore the health of your gums before there are complications that you must contend with. While the problem should be taken seriously, it can be a relief to know that there is time to reverse the infection. Those who are struggling with periodontal disease may require ongoing preventive support in order to control the effects of their infection. It may also be necessary to respond to damage through procedures that remove bacteria and encourage healthy tissue growth.
Using Imaging Technology To Assess Your Periodontal Health
With the imaging technology located at our practice, we are able to show you what is happening with your periodontal health. We can use an evaluation to determine if preventive treatment will be able to clear out bacteria before periodontal disease forms, or if we need to plan on treatments to combat this condition.
Treatment For Gingivitis And Periodontal Disease
With digital x-rays and other examinations, we can see what kind of services might be needed to help you. Patients with gingivitis can undergo a scaling and root planing procedure. This procedure removes the bacteria that are gathering below your gum line. Once this is done, the tissues can return to good health. If the damage is more severe already, we can discuss services like laser periodontal treatment to protect you from more complications. Through laser treatment, infected tissues are carefully removed so that new tissues free of infection can take their place. We also offer services like ozone therapy to fight the periodontal bacteria present and causing problems.
Schedule An Exam With Your Encinitas/San Diego, CA Periodontist!
Your Encinitas/San Diego, CA periodontist has experience helping patients understand what is happening with their periodontal health, and she is prepared to provide treatment to fight active problems. To find out more, please call Dr. Kania's periodontal practice at (760) 642-0711.