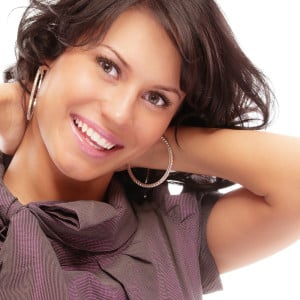 June is National Smile Month. This is kind of like Christmas for dentists. Since we are in the business of preventing, restoring, and cosmetically altering smiles, we have a vested interest in the grin of every one of our patients. Most people think that smiling is an involuntary response to feeling happy. However, if you are unhappy, the act of smiling can turn your mood around through a rush of endorphins. Dr. Ann Kania would like to make sure that your smile is everything you want it to be.
Building Confident Smiles
A natural, confident, attractive smile can make a big difference in your life, whether you are the one flashing the grin, or you are on the receiving end. Anyone who is extremely uncomfortable with the way their teeth look will probably avoid smiling. Since this embarrassment can be detrimental to your health and well-being, perhaps a cosmetic dental consultation is in order. Current dental technology allows for a wide range of cosmetic procedures that can provide patients with a smile they want to show off. Dental implants, veneers, bonding, teeth whitening, and invisible braces are all common in cosmetic dental practices.
Smile Research
There have been countless research studies on the power of smiling as a means to enhance moods or to predict the future well-being of individuals. At Wayne State University, researchers looked at baseball cards to find a connection between longevity and smiling comfortably in photos. UC Berkeley scientists turned to yearbook photos as well as questioning alumni to find out if the biggest smilers had the best jobs. It appeared to be so, according to the study. Even marriage success seems to correlate with smile pride. A single smile can produce similar feelings of happiness which you might have upon hearing good news. As you can see, there are lots reasons to smile each day.
ABOUT YOUR SAN DIEGO, CA, LASER PERIODONTIST:
To learn how to keep your teeth and gums healthy for life, subscribe to this blog, and visit Dr. Kania for a consultation. As a board-certified periodontist, Dr. Ann M. Kania is specially qualified to diagnose and treat issues concerning periodontal tissue and the supportive structures of a patient's smile, as well as place dental implants to restore teeth lost to dental disease or trauma. Dr. Kania also offers the Pinhole® Surgical Technique (PST) for minimally-invasive, scalpel-free gum grafting. To seek Dr. Kania's expertise, contact her office today at (760) 642-0711.