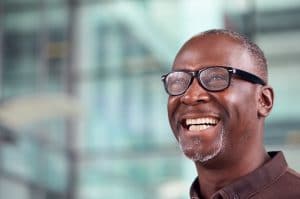 There are several reasons to worry about the effects of gum disease. If gingivitis is not properly managed, an infection can cause damage to the tissues that currently support your teeth. As this takes place, those teeth can become unstable, and are at risk for either being lost or needing to be extracted. While tooth loss is not the only long-term consequence of poor periodontal health, it is an issue that can seriously impact your smile, dental function, and well-being. In addition to helping patients fight problems with active infections, we can make plans to restore your smile with dental implants. Through implant dentistry, we are able to provide root-like titanium posts that will keep prosthetic appliances permanently in place!
How Has Gum Disease Impacted Your Smile?
The effects of periodontal disease can be more severe than you anticipate. Over time, the bacteria responsible for your infection can cause inflammation and tissue damage that put you at risk for tooth loss. When this occurs, you can experience a loss of confidence, issues with your diet, and problems with the health of your jawbone. In addition to helping patients recover from the effects of an infection, we are able to work with those who have already suffered tooth loss and wish to regain a complete smile.
Planning Your Smile Restoration With Dental Implants
Dental implant placement will involve the careful insertion of titanium posts into your jawbone, where they will occupy space that previously housed a tooth's roots. Before performing a procedure to place an implant, we will gather digital images that help us assess the health of your jawbone and the precise location for placement. We can use anesthesia and dental sedation to make the process more comfortable than you might anticipate. After you go through an appropriate healing period, your dentist can restore the implant by affixing a custom, durable restoration to it.
Maintaining Your Oral And Periodontal Health After Restorative Work
Our practice offers ongoing support to individuals who are trying to fight the effects of periodontal disease. Supportive periodontal maintenance appointments provide thorough cleanings intended for people who have struggled with an infection. This practice, which can take the place of regular dental cleanings, will help manage bacteria that have infiltrated your gum line. We also have experience helping patients protect their teeth and gum tissues with laser treatments, and through procedures like ozone therapy that directly target unhealthy microbes.
Dr. Kania Can Address Tooth Loss And Periodontal Disease
Tooth loss is a serious concern, and a problem that can impact many people who experience periodontal disease. To find out more about how we can help you with this issue, and how we help people treat periodontal disease, call Dr. Kania's periodontal office in Encinitas/San Diego, CA, at (760) 642-0711.