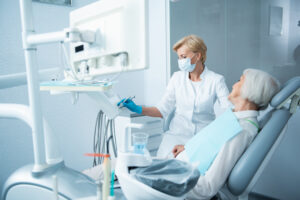 How will you fight to protect your oral and overall health when you have issues with periodontal disease? A problem with your gums can have more consequences for you than you realize. When not caught and treated in time, gingivitis can turn into a more serious infection that threatens you with tooth loss and problems for your general well-being. To make sure the matter is managed and your smile is preserved, you can meet with a specialist to discuss treatment options. Our Encinitas/San Diego, CA periodontal practice is prepared to work with you on addressing more severe infections. When called for, we can use advanced laser technology to address bacteria and unhealthy tissues. We can also explore recovery through more holistic approaches that rely on oxygen, as well as platelet-rich plasma to encourage healing.
Periodontal Disease Can Create Serious Trouble For Your Smile
While gingivitis is a problem that general dentistry can successfully address and reverse, issues with periodontal disease can call for more involved support than your family dentist typically provides. To make sure that your condition is handled properly, you can see a periodontal specialist to learn about your treatment options. Based on a diagnostic review of your gums, we can see what problems you currently face, and from there we can discuss what your options for care include.
Controlling An Advanced Infection
There are different strategies that can effectively control problems with an advanced infection. Through Supportive Periodontal Maintenance, typically performed every three months, we can stop your condition from progressing and causing complications that need to be resolved. If you already have more serious issues, we can discuss more involved services, including treatments that use laser tools. We can also recommend options like ozone therapy and PRP therapy, which provide holistic methods that protect you.
Dealing With Tooth Loss Caused By Periodontal Disease
A heightened risk for tooth loss is something you need to be aware of when you have periodontal disease. If you have already experienced this issue, our practice can help. We can begin plans to restore your complete smile by providing a dental implant to hold a prosthetic restoration. Implant dentistry helps patients regain more than just their smile, as this treatment approach can lead to better oral health and bite support!
Talk To Dr. Kania About The Harm Periodontal Disease Has Done To Your Smile
Through the appropriate care, Dr. Kania can help you avoid the potentially serious consequences that are associated with periodontal disease. The longer you wait to seek help for a severe infection, the more likely it is that you will experience alarming complications. If you would like to find out more about how we can help you, call Dr. Kania's office in Encinitas/San Diego, CA, at (760) 642-0711.