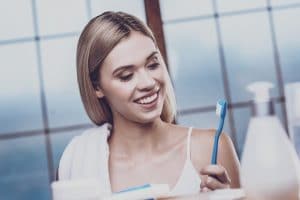 Gingivitis is the earliest and least obvious form of gum disease. Once it develops, your risks of experiencing more severe consequences of gum disease become significantly higher. Therefore, the key to preventing gum disease from seriously threatening your smile is to avoid the development of gingivitis in the first place. At our Encinitas/San Diego periodontal office, preventing gingivitis and gum disease is one of the most important preventive measures we provide our patients.
Outsmarting Gum Disease
Save Your Smile by Preventing Gum Disease
Saving your smile from the destructive force of gum disease starts by preventing the formation of its earliest stage – gingivitis. For more information, schedule a consultation with Dr. Kania by calling her periodontal office in Encinitas/San Diego, CA, at (760) 642-0711.