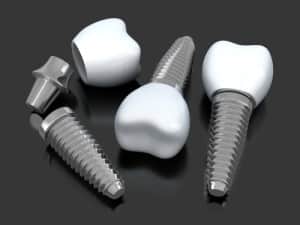 Many of us assume losing your teeth means few options for enjoying a whole and healthy smile again. However, there is a tooth replacement option that mimics the stability and appearance of natural teeth in ways dental bridges and dentures simply cannot. The benefits of dental implants include a lifelike esthetic and the ability to eat and smile with confidence.
The Advantages of Implant Dentistry
They look natural: For individual tooth replacement, the implants will be topped with a dental crown. The crown replaces the part of your teeth we see when you smile and will be custom-made to blend with surrounding teeth. Made from porcelain, the crown will be strong and natural looking, offering decades of stain-resistant restoration.
Implants prevent loss of jawbone tissue: When you lose a tooth the body quickly registers the loss and no longer provides the surrounding jawbone with doses of calcium and phosphorus. Without these nutrients the bone dissolves, leading to an aged appearance. However, the biocompatible titanium implant posts are accepted as natural, so the body resumes the flow of nutrients and preserves the jawbone tissue.
They can last for decades although there are no guarantees: In many cases these replacement teeth have been known to last as long as 25 years and in some cases even longer. With proper care and maintenance you can enjoy a new tooth that lasts far longer then other dental prosthetics.
Easy to care for: You won't need to remove, soak, or use special cleaning agents with this new tooth. Instead, simply brush and floss regularly and see your dentist once every six months for a routine exam and cleaning. Doing so not only preserves your replacement tooth, but your natural ones as well.
ABOUT YOUR SAN DIEGO, CA, LASER PERIODONTIST:
To learn how to keep your teeth and gums healthy for life, subscribe to this blog, and visit Dr. Kania for a consultation. As a board-certified periodontist, Dr. Ann M. Kania is specially qualified to diagnose and treat issues concerning periodontal tissue and the supportive structures of a patient's smile, as well as place dental implants to restore teeth lost to dental disease or trauma. Dr. Kania also offers the Pinhole® Surgical Technique (PST) for minimally-invasive, scalpel-free gum grafting. To seek Dr. Kania's expertise, contact her office today at (760) 642-0711.