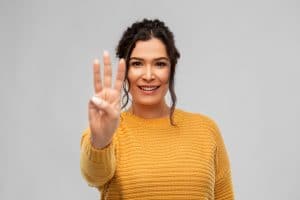 Over time, periodontal disease can cause your gum line to recede, damage tissues that support teeth, and allow bacteria to travel to different parts of your body. The effects of this condition can be tough to ignore, but they can be managed with the right approach to care. Our Encinitas/San Diego, CA periodontal practice has experience working with patients who have different degrees of poor periodontal health. Thanks to the diagnostic technology at our practice, we are able to determine the severity of a person's condition and make plans to help them. This can involve preventive services to stop an infection before long-term complications from periodontal disease occur, or work to restore tooth loss that has already resulted due to infection.
1. Laser Treatment Can Help By Encouraging The Growth Of Healthy Tissues
With lasers, your periodontist can carefully remove unhealthy and infected tissues in order to stimulate new growth. The use of lasers in periodontal procedures instead of manual tools can make this process easier by protecting healthy tissues, and by providing a shorter recovery time.
2. A Gum Grafting Procedure Can Restore Your Gum Line
If your gum line has started to recede, your appearance can be negatively affected. This problem can also make it harder for you to prevent future periodontal problems if an infection is not present. Our practice performs gum grafting procedures through the Pinhole Surgical Technique, which can shorten your recovery and produce cosmetic improvements in less time.
3. Prosthetic Dental Work Can Restore Your Smile After Tooth Loss
Tooth loss can be one of the more serious consequences of periodontal disease. If an individual does not take action to address signs of an infection in time, the destruction of tissues around teeth can leave them unsupported, leading to their loss or need for extraction. Thanks to implant dentistry, our practice can help you regain your complete smile! Dental implants help patients by holding prosthetic appliances in place. This support can make your dental function easier, and it can help stimulate your jawbone and prevent deterioration. If there are existing issues with your periodontal health that affect your ability to undergo implant placement, we can work through issues to prepare you for your prosthetic care.
Your Encinitas/San Diego, CA Periodontist Can Help You
At our Encinitas/San Diego, CA periodontal practice, we have experience treating patients with varying degrees of periodontal health problems. We can work with individuals who are affected by gingivitis and want to prevent further infections, and we can help those who have already started to experience more worrying consequences of periodontal disease. Because we rely on a modern approach to treatment, we can deliver improvements that are more comfortable and require shorter healing periods! To find out more about Dr. Kania and our practice, call our Encinitas/San Diego, CA periodontal practice at (760) 642-0711.