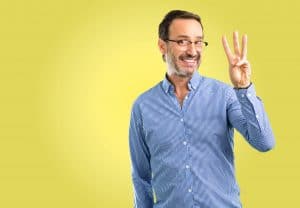 What can you do to start fighting harmful bacteria that can cause issues with periodontal disease? Hopefully, you are already practicing good preventive care with an effective brushing and flossing routine. The daily habits you follow to clean your teeth can also protect your gums from infection. Unfortunately, many people still find themselves in need of treatment for gum disease. At our Encinitas/San Diego, CA periodontal practice, we have several approaches to fighting periodontal bacteria. Dealing with these unwelcome microbes can help you stop gingivitis, an early form of infection, from growing serious. Treatments will also help you manage a more serious condition.
1. Undergoing A Scaling And Root Planing
During a scaling and root planing, your periodontist cleans portions of your teeth that are normally covered by your gum line. When these spaces are properly tended to, harmful agents can be cleared away to protect your periodontal tissues. In addition to providing a cleaning service, this treatment also involves the polishing of your teeth below the gum line – this polishing makes it harder for new bacteria to begin gathering. A scaling and root planing can help you manage a more serious infection, or put a stop to gingivitis.
2. Have Bacteria Addressed Directly With Ozone Therapy
Ozone therapy oxidizes harmful bacteria, eliminating them so that they can no longer cause problems for your well-being. Ozone can be administered as a gas, or in liquid form. What makes this procedure so effective at fighting infections? The bacteria that can create issues for your health are anaerobic, and depend on the absence of oxygen to thrive. With ozone therapy, it is possible to take action against those agents, while leaving welcome bacteria alone. Leaving those healthy bacteria can help your body naturally fight the harmful agents.
3. Fight Periodontal Bacteria At Home With Perio Protect
Our practice offers important answers to periodontal disease in the office, and we can provide you with the means to fight periodontal bacteria at home! Perio Protect provides you with a special, custom-sized tray, along with antibacterial agents. You can use the trays to directly apply the agents to your gums in order to fight the buildup of harmful bacteria on a daily basis. This can help you stop a condition from worsening, and avoid the complications that can stem from gum disease.
Dr. Kania Is Committed To Helping Patients Fight Harmful Periodontal Bacteria!
At our Encinitas/San Diego, CA periodontal practice, Dr. Kania is committed to delivering modern, thorough treatment to patients struggling with periodontal disease! We can help you identify problems, and we offer both preventive and restorative care to help you maintain your best, healthiest possible smile. If you want to learn more about what Dr. Kania can do for you, contact her office today at (760) 642-0711.