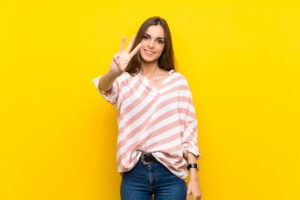 When you overlook the potential impact of gum disease on your well-being, you can fail to act on a problem that leads to significant issues, including issues like tooth loss! As periodontal bacteria accumulate and spread, they can become more difficult to control, and they can spread to other parts of the body by entering the bloodstream. In some cases, it will be important that a specialist provide an evaluation and the appropriate treatment to control an infection. Your Encinitas/San Diego, CA periodontist is prepared to help you. In addition to providing advanced services that control problems with periodontal disease, we can offer diagnostic reviews and preventive services that can lead to the prevention of more significant consequences!
1. Untreated Periodontal Problems Can Cause Tooth Loss
In time, the harm done by periodontal bacteria can hurt your smile in several ways. One way is by causing your gum line recede. Another is by damaging the tissues that keep teeth in place, something that can lead to the loss of teeth! Tooth loss is a significant issue both for your appearance and your oral health. In addition to providing support through implant dentistry for those affected by this problem, we can perform advanced treatments to control an infection and prevent patients from going through this experience.
2. Periodontal Bacteria Can Cause New Problems By Traveling To Other Parts Of The Body
If you have an active problem with gum disease, you should be concerned about the growth and movement of harmful microbes on teeth roots. As serious as this issue can be for your oral health, new problems can arise when bacteria enter the bloodstream and move to other parts of the body, as these microbes can cause inflammation-related trouble in new areas. Between preventive services to control the buildup of bacteria and more advanced treatments, including laser periodontal care, to fight more severe infections, we can stop this threat before it has more significant consequences for you!
3. Timely Care Can Stop An Infection From Progressing To Something More Severe
Ultimately, your periodontal health matters for the sake of your smile, and it is also important for preserving your overall well-being. Our practice can provide support for people with different stages of an infection. After a diagnostic review, we can determine what kind of help you need. Seeking support in time can lead to beneficial preventive services like scaling and root planing to control and reverse an infection.
Talk To Your Encinitas/San Diego, CA Periodontist About Seeking Care For Gum Disease
Problems with gum disease can have more significant consequences than you might realize. In time, your infection can grow serious enough to put you at risk for tooth loss and a number of physical threats. If you would like to learn more about how our office can support you, please call Dr. Kania's office in Encinitas/San Diego, CA, at (760) 642-0711.