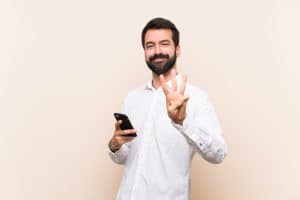 You know that by keeping the spaces around your gum line clean when you brush and floss, you can protect yourself against the development of gingivitis. You also know that if gingivitis is not addressed through your oral hygiene routine at home, or through preventive care from your periodontist, the condition can worsen, leading to periodontal disease. What you should also know is that when periodontal disease affects a person, it can have potentially serious impacts on their appearance and well-being. Your smile can be negatively affected, you run a higher risk for tooth loss, and you may even have difficulty maintaining your general health! Our Encinitas/San Diego, CA periodontal practice is prepared to help patients recognize the threats of gum disease, just as we are prepared to help those who are already struggling with this condition.
1. An Infection Can Lead To Gum Line Recession
Gum line recession is not always caused by gum disease, but gum disease is often responsible for the recession of your gum tissues. What this can do is change your smile by making it uneven, and by exposing portions of your teeth that are normally covered. In addition to changing your appearance, this can cause you to have more problems with dental sensitivity. Through the Pinhole Surgical Technique, our practice is able to perform a gum grafting procedure that is less invasive, which means you can see positive results with less work and a shorter healing period!
2. Gum Disease Can Lead To Tooth Loss
Did you know that gum disease is the primary reason people lose teeth as adults? We become vulnerable to these losses because the bacteria that gather under our periodontal tissues can destroy the tissues that support our teeth. If this has already been an issue for you, we can discuss the placement of dental implants to hold lifelike restorations in place. By taking care of your condition and helping you regrow healthy tissues, we can help you preserve your smile.
3. Your Periodontal Health Can Influence Your General Health
There are studies that point to a link between a person's periodontal health and their overall health. If you have periodontal disease already, the movement of bacteria to different parts of your body can have a detrimental effect on your well-being. You can be affected by potentially serious issues, including heart disease, if your gum health is not being addressed!
Dr. Kania Provides Treatments To Help Patients Fight Periodontal Disease
At our Encinitas/San Diego, CA periodontal practice, Dr. Kania has considerable experience working with patients who are experiencing different degrees of periodontal problems. For patients who want to avoid periodontal disease, we can offer preventive services and expert guidance. For those who are already affected by this condition, we use modern treatments to help manage this potentially serious infection. To find out more about us, call Dr. Kania's office at (760) 642-0711.