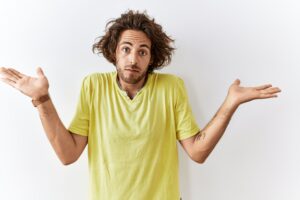 Does it make sense for you to do more than just brush and floss in order to fight gum disease? For someone who has a history of issues with their periodontal health, an extra degree of support can certainly be beneficial. Our Encinitas/San Diego, CA periodontist can provide additional help in the form of Perio Protect! By receiving a custom tray and advanced antimicrobial agents, you enjoy another way to fight the oral bacteria that can cause gingivitis and more advanced periodontal disease. In addition to supplying this treatment solution, our practice can offer you help in the form of in-office services that respond to different degrees of poor gum health.
Are You Doing Enough To Protect Yourself Against Gum Disease?
With the right commitment to daily smile care, you can defend yourself against gum disease as well as problems with tooth decay. To see the right results, you should put time and effort into both brushing and flossing, and you should be thorough enough to fight bacteria in those spaces where your teeth and gums meet. While many people feel comfortable with the routines they practice, they can experience the consequences of poor hygiene in the form of gingivitis, which can eventually lead to periodontal disease.
Fitting Perio Protect Into Your Daily Routine
Based on your current health and history with gum disease, Dr. Kania can recommend that you include Perio Protect in your daily routine. Adding this means adding a practice of directly targeting bacteria beneath the gums. This is made possible with special trays that fit over teeth and antibacterial agents that fight harmful microbes present on the roots of teeth. When this becomes a daily habit, you can enjoy better protection against significant gum problems and their consequences.
What Else Can You Do To Protect Your Periodontal Health?
Beyond focusing on daily smile care, you can talk to a specialist about making sure you remain safe against periodontal problems. To help patients with a history of issues with gum disease, we can recommend the start of supportive periodontal maintenance. This replaces your semiannual dental cleanings with more thorough sessions that fight bacteria already present on the roots of teeth. We can also provide holistic in-office services like ozone therapy and PRP therapy to tend to problems with bacteria and tissue damaged respectively.
Talk To Your Encinitas/San Diego, CA Periodontist About Better Daily Care!
By pursuing better hygiene efforts on a daily basis, you can fight gum disease and protect yourself against its consequences! If you would like to find out more about how se can help you with this, or if you are interested in what our in-office services can do for you, please call Dr. Kania's office in Encinitas/San Diego, CA, at (760) 642-0711.