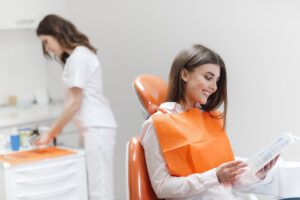 If you need help managing problems with gum disease, there are certain services provided at our Encinitas/San DIego, CA periodontal practice that can help you. We have experience tending to the needs of patients who are affected by different degrees of problems with their periodontal tissues. When trouble is identified and addressed in time, preventive services can be all that you need to arrange. However, when the matter is more serious, we can offer support through involved services that address more severe symptoms while still prioritizing your care. With the right approach, we can produce results while relying on more natural treatment methods. We can also look into care with laser technology to provide results through surprisingly conservative care.
How Ozone Therapy Relies On Oxygen To Target Harmful Bacteria
With ozone therapy, we are able to fight the buildup of bacteria that are harmful to your gums while still preserving the healthy microbes that are a part of your mouth's ecosystem. Concentrated oxygen is used to destroy those unwelcome agents that are affecting your gums. Applied in either liquid or gas form, the oxygen deployed during ozone therapy is harmful to bacteria that cause problems with infection but leave healthy aerobic bacteria; by preserving your mouth's ecosystem, we can aid in recovery and the preservation of your health!
Using PRP Therapy To Stimulate Natural Growth And Recovery
The tissue damage caused by an infection can be significant. If it is not managed properly, the harm can result in tooth loss! Platelet rich plasma therapy, or PRP therapy, will help stimulate your natural recovery processes. Higher concentrations of platelets can aid in healing so that you see recovery in less time.
Providing More Conservative Care Through The Use Of Laser Tools
Through the use of laser technology in periodontal care, we can make advanced treatments more conservative and comfortable. Laser tools are capable of working with more precision, which means we can more easily protecting healthy areas surrounding the treatment site. We can also limit bleeding and overall damage, which can remove the need for suturing to help you heal. The periodontal care performed with laser tools will remove harmful bacteria as well as infected tissues; that removal encourages your body to grow healthy gums that are not impacted by your infection.
Talk To Your Encinitas/San Diego, CA Periodontist About Patient-Friendly Care
Through patient-friendly and advanced periodontal services, our practice can help you resolve potentially serious issues with your health and appearance related to gum disease. With the right diagnostic tools and reviews, we can assess what patients need from us and move forward with beneficial care. If you would like to find out more about our practice and services, call Dr. Kania's office in Encinitas/San Diego, CA, at (760) 642-0711.