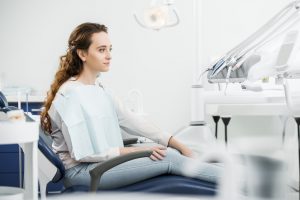 Periodontal disease should not be taken lightly. If you are not meeting with a professional to have your condition evaluated and treated, it can cause you to experience issues with tooth loss, and it can make it more difficult for you to manage your general health. Our Encinitas/San Diego, CA periodontal practice is here to support you if you need to do something about a potentially serious infection. With the right services, we can help you control or reverse the problem. If your interest in treatment is complicated by your anxieties around dental work, you should know that we can take several steps to make sure your care is as comfortable as possible.
Discomfort With Dental Care Can Make You Vulnerable To Problems
If you have a hard time scheduling dental work because of a general sense of unease, you can go without services that can prove more important than you expect. Gingivitis is something that can be reversed, meaning the right intervention can ensure that your gums are healthy again. However, if you wait too long to do something about this issue, an infection can grow more serious. When the problem reaches this stage, you can struggle with the effects of periodontal disease, a more severe condition that is more difficult to control.
How Sedation Helps Patients Remain Calm During Treatments
For some individuals, any kind of oral health care can be intimidating. What can you do to make sure you no longer let this problem interfere with your access to treatments? We can provide safe dental sedation while you visit us to undergo periodontal care. Sedation allows you to remain conscious throughout your visit, but it helps you stay in a relaxed state of mind even when you need to undergo more involved services to address problems with unhealthy tissues.
How We Control Issues With Periodontal Disease
Our treatment solutions provide patients with different options for support. They also help us personalize treatment so that we can give someone the right kind of care. One step our practice has taken to set ourselves apart is use laser technology during care. This makes treatment feel less invasive, as it is more accurate, causes less bleeding, and does not require suturing to help with recovery. After a diagnostic review of your gums, we can discuss whether this might be an appropriate treatment for you, and what we can do to help you avoid long-term complications from your infection.
Talk To Your Encinitas/San Diego, CA Periodontist About Your Unease With Treatments
Dental anxiety should be taken seriously, as it can complicate a person's ability to seek support for potentially serious issues. The good news is that dental sedation can make time in the dentist's chair easier for people who always feel uneasy, as well as for those who are in need of a longer, more involved service. If you would like to find out more, call Dr. Kania's office in Encinitas/San Diego, CA, at (760) 642-0711.