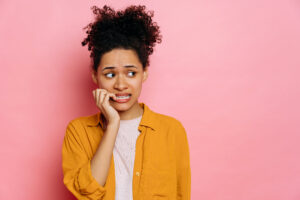 When poor periodontal health is not being managed, several complications can arise. You can find yourself worried because you have teeth that no longer feel secure. You can also worry after discovering that there are links between poor gum health and your vulnerability to other health conditions, including heart disease and Alzheimer's disease. Unfortunately, people who experience dental anxiety can struggle to seek treatment even when they know they have active issues with their oral health.
At our Encinitas/San Diego, CA periodontal practice, we can help you enjoy the right support for gum disease. One way we do this is by making sedation available during your services. We can also help by providing options like LANAP treatment, which uses lasers to make potentially sensitive services more comfortable and less invasive.
Does Anxiety Around Oral Health Care Affect You?
If you experience anxiety when you try to arrange oral health care, that negative feeling can become a serious barrier between you and the right support. For patients who develop problems with periodontal disease, anxious feelings can make it difficult to seek treatment from a specialist who is prepared to manage the condition. Gum disease is not a condition you want to ignore—in time, the tissue damage and attachment loss stemming from your condition can result in tooth loss, and there are worrying links between this kind of infection and general health problems! Fortunately, there are different steps our practice can take to make treatment feel more accessible to you if you experience this kind of unease.
Using Sedation To Make Your Treatment Experiences Easier
Through the use of dental sedation, we can help uneasy patients feel relaxed throughout their appointments. Nitrous oxide and relief from oral sedatives are both available to patients. Nitrous oxide—also known as laughing gas—is administered continuously during your appointment to help you remain relaxed. An oral sedative can offer stronger effects, but because those effects linger after treatment, you will need to arrange transportation to and from your appointment. For patients who need more support or have to schedule more involved work, we can also discuss IV sedation.
How LANAP Makes Periodontal Care More Conservative
Through the use of soft tissue lasers, our practice makes work that directly affects periodontal tissues more comfortable. We rely on the LANAP protocol to carefully tend to affected areas of your gums as well as the bacteria present on teeth roots. In doing so, we make the process more conservative and comfortable. We also remove the need for suturing and shorten your recovery period!
Talk To Your Encinitas/San Diego, CA Periodontist About Managing Anxiety During Periodontal Care
Through the use of dental sedation and advanced treatment options, our practice can make important periodontal services easier to arrange! If you would like to find out more, call Dr. Kania's office in Encinitas/San Diego, CA, at (760) 642-0711.