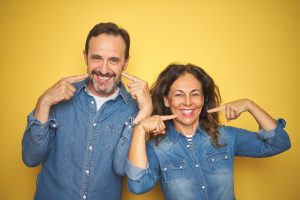 When you hear about the symptoms of periodontal disease, you can be understandably concerned about your smile. In addition to making you vulnerable to problems with heart disease and other conditions, your infection can lead to the destruction of tissues that are responsible for keeping your teeth secure. This attachment loss leads to tooth loss for many people with periodontal disease. Fortunately, our Encinitas/San Diego, CA periodontal practice is able to help with this problem! After a careful study of your oral health, we can perform dental implant placement. Implants provide lasting support for prosthetic restorations, and help you sustain your jaw health. This is one of many services we provide when helping patients recover from the effects of periodontal disease.
Why Is Periodontal Disease Linked To Tooth Loss?
Individuals with gum disease face a heightened risk for tooth loss because their infection can lead to the destruction of tissues that keep teeth secure. As that destruction occurs, their teeth can begin to feel loose, which can make extraction necessary. Unfortunately, tooth loss is more than just an issue for your appearance – you also lose the roots of teeth, which provide important support for your jawbone.
The Benefits To Restoring Your Smile With Dental Implants
Dental implants effectively act as replacement for the roots of your teeth. The first step in your implant placement will require an evaluation to confirm that you are a good candidate for the placement process. Once this is determined, Dr. Kania can determine the exact place where your implant should be set. The healing process after your placement is important – as you recover from receiving your implant, your bone actually heals with the post to provide better stability.
We Offer Modern Treatments To Fight Periodontal Disease
Our practice is prepared to help individuals who are suffering from periodontal disease. To help you recover from the effects of an infection, we use laser-based treatments to remove infected tissues, and encourage healthy growth. We also provide ozone therapy to directly fight the harmful bacteria that are present beneath your gums. In addition to killing unwelcome bacteria, ozone therapy can preserve beneficial microbes that are already present.
Dr. Kania Can Help Restore Your Full Smile!
Restoring your full smile with the assistance of dental implants can make you more confident in your smile while also helping you enjoy better dental function. At our Encinitas/San Diego, CA periodontal practice, we can discuss what you should expect from implant placement, and arrange your procedure so that you can regain your complete smile! This is one of many procedures we are ready to provide for individuals who are trying to recover from the effects of periodontal disease. To find out more about Dr. Kania's services, contact her office today at (760) 642-0711.