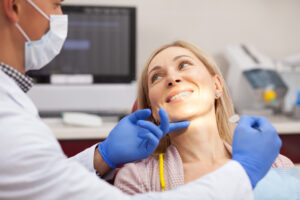 As bacteria start to accumulate on the roots of our teeth, the negative effect on periodontal health can be difficult to ignore. Over time, these microbes can lead to serious issues with periodontal disease, something that can cause an increased risk for tooth loss as well as problems with your general health. While it can be difficult to effectively manage a serious infection, the right services can make preserving your smile and well-being easier. At our Encinitas/San Diego, CA periodontal practice, we can review your different options for treatment. They include services like ozone therapy, which can help you fight harmful microbes without hurting healthy bacteria that reside in our mouths.
Concentrated Ozone Therapy Can Help You Fight Periodontal Disease
While there are many forms of healthy bacteria in our mouths, the accumulation of the wrong microbes can lead to trouble over time. Gum disease can become a concern when those unwelcome bacteria start to build up on the roots of your teeth. At first, this can cause gingivitis, a problem with your gums that is reversible. In fact, we can provide scaling and root planing to fight the onset of an infection and prevent gingivitis from worsening. Unfortunately, as time passes, the infection will grow more serious without the appropriate care, and that will lead to more advanced periodontal disease.
One advantage to using ozone therapy to fight an infection is that you have the ability to target those unwelcome bacteria without disrupting your mouth's ecosystem. This is because your treatment uses concentrated oxygen to specifically target the bacteria that are unwelcome and responsible for causing harm to your well-being. By preserving those healthy microbes, you can more easily maintain your mouth's healthy natural state.
Discussing Other Treatment Options With Your Periodontist
While ozone therapy is a beneficial holistic treatment for periodontal disease, it is not all that we can offer to help you. Another holistic solution that we can recommend is PRP therapy. This service relies on platelet-rich plasma to stimulate faster healing for tissues that have suffered damage from your infection. This can lead to a recovery that is natural, but one that still helps push forward faster healing and improvement from your treatment.
For patients who need to control advanced infections, we can recommend more involved services, including treatments with laser technology. Lasers make it easier for us to work with soft tissues and remove bacteria, as they provide more accurate and precise work, and because they limit tissue damage and make recovery easier.
Talk To Dr. Kania About Starting Ozone Therapy!
By beginning ozone therapy, you can enjoy a holistic response to problems with periodontal disease. If you would like to find out more about how we can help you, call Dr. Kania's office in Encinitas/San Diego, CA, at (760) 642-0711.