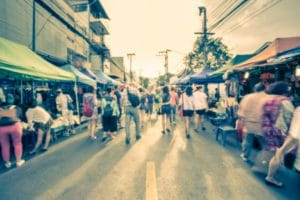 On Sunday, November 24, you and your family can visit the Encinitas Holiday Street Fair! Dozens of retailers and more than 450 vendor booths will offer a wide variety of goods that you can select from to take care of your holiday shopping. You can also listen to live music, watch fun special performances, and check out the special areas set up for kids and pets to enjoy! The holidays can sneak up on us when we are not careful. While periodontal problems are decidedly less fun than the holidays, it is important to recognize how the effects of gingivitis can worsen more quickly than you might anticipate. To make sure your periodontal health is expertly managed, make an appointment at our Encinitas/San Diego, CA periodontal practice!
When:
The Encinitas Holiday Street Fair is happening on Sunday, November 24. The event is scheduled to run from 9 am until 4 pm.
Where:
You will find the fair at Coast Highway 101, situated between D and J Streets.
Cost:
There is not an entry cost for the fair, so you and your family can explore what it has to offer for free!
Activities Include:
During this special one-day holiday fair, you can shop from different local retailers, as well as at more than 450 vendor booths! There will also be live music, fun special performances, a Kids Zone, and a special area for pets. During your time at the fair, you can enjoy food and refreshments from many vendors on site.
For More Information:
If you are interested in learning more about this upcoming event, please click here.
Reach Out To Dr. Kania For Great Periodontal Care
At our Encinitas/San Diego, CA periodontal practice, Dr. Kania is ready to provide expert care to individuals who have concerns about their periodontal health. If you are trying to manage periodontal disease, or if you want to put a stop to gingivitis before the problem worsens, we can help! To make an appointment with Dr. Kania, contact her office today at (760) 642-0711.