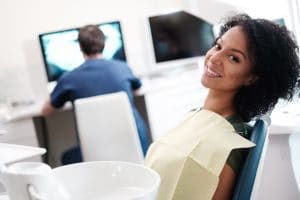 If your troubles with periodontal disease go untreated, the consequences can be serious. The problem can affect your general health, and do concerning damage to the tissues that support your teeth. Fortunately, your Encinitas/San Diego, CA periodontist can help you manage the effects of gum disease through modern treatments that protect your periodontal tissues, and control the spread of bacteria. We rely on services that minimize patient discomfort, offer shorter healing times, and preserve more of your healthy tissues in order to provide better treatment experiences. For individuals who have anxiety about dental care in general, or feel uncomfortable at the thought of a certain procedure, we can recommend sedation during your appointment.
Treatment With Lasers Can Provide More Precise Care, And Shorter Healing Times
Our laser periodontal treatments like LANAP and the ErbiumWaterLase treatment can provide important and precise care for your gums. By using lasers instead of manual tools, we can more carefully target areas where infection is a concern, and leave healthy tissues untouched. Lasers also offer shorter treatment times, and they can limit any bleeding or need for sutures after work is completed.
The Pinhole Surgical Technique Can Improve Your Experience With Gum Grafting
Gum recession often affects people who have had troubles with their periodontal health over time. Through gum grafting, we can restore the look of your smile, and help you better protect yourself against gum disease. Through the Pinhole Surgical Technique, we are able to restore your gum line without using a scalpel, and without the need to suture your gums at the end of the procedure. Instead, a small hole is made, and tissues are carefully moved to where they should be.
We Can Provide Sedation For Anxious Patients
If you are unfamiliar with modern periodontal treatment, or if you struggle with general feelings of unease regarding dental care, even a modern, patient-friendly procedure can make you uneasy. With this in mind, we do offer options for dental sedation during treatment. With the use of nitrous oxide or an oral sedative, we can help you remain relaxed as your periodontist performs important work to restore or protect your periodontal health.
Dr. Kania Can Help You Enjoy A More Comfortable Experience During Periodontal Care!
At our Encinitas/San Diego, CA periodontal practice, Dr. Kania is proud to provide patients with modern treatment solutions to their troubles. Through procedures to restore and protect your gums, we can help you avoid the potentially serious consequences of an untreated periodontal infection. If you have a hard time in the dentist's chair, or if you want to make sure you remain comfortable through a longer procedure, we can recommend dental sedation during your visit! To schedule a visit with Dr. Kania, contact her office today at (760) 642-0711.