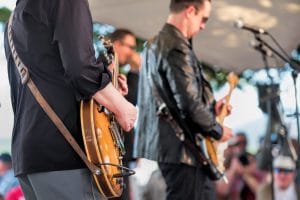 This summer, families in and around Encinitas, CA can look forward to great live music at the beach! The Encinitas Summer Concert Series will kick off with its first performance on Sunday, July 7, with a performance from Cold Duck. There will be additional events on July 21, August 4, and August 18, featuring different musical groups. Summer can seemingly slip away before we really have time to appreciate it. Unfortunately, periodontal disease can have the opposite problem – if your gums take on a serious infection, you can be forced to continually address its effects. Thankfully, you can count on quality care from your Encinitas/San Diego, CA periodontal specialist, Dr. Kania, to provide modern treatments against serious gum disease!
When:
The first performance in the Encinitas Summer Concert Series is taking place on Sunday, July 7 at 3 pm. Additional concerts will happen on July 21, August 4, and August 18.
Where:
The concerts are being held on Moonlight Beach, located at 400 B Street, Encinitas, CA.
Cost:
All of the concerts during the Encinitas Summer Concert Series are FREE!
Activities Include:
Throughout the Encinitas Summer Concert Series, Encinitas residents can look forward to talented, family-friendly musical acts that they can watch on Moonlight Beach! This is a great reason to head outside for the summer, and an opportunity to enjoy FREE live entertainment!
For More Information:
For more information about this event, click here.
Schedule A Periodontal Treatment With Dr. Kania!
Dr. Kania is proud to offer dedicated periodontal care to people in and around the Encinitas/San Diego, CA area! If you want to protect yourself against a periodontal infection, if you want to evaluate the state of your periodontal health, or if you need to schedule work on your gums, we are ready to help you! Our practice focuses on modern, patient-friendly procedures that can have a great effect on your oral and periodontal health. To benefit from Dr. Kania's expertise, contact her office today at (760) 642-0711.